To visit the Currituck Beach Lighthouse, take NC Hwy 12 north from Nags Head.  As you enter the town of Corolla, the lighthouse will be visible on the left side of the road.  For more information on visiting the lighthouse, visit
The Official Site of the Currituck Beach Lighthosue
.
After the construction of the Bodie Island Lighthouse in 1872, there continued to be a tremendous "dark spot" between the light at
Cape Henry, VA
and the light a
Bodie Island
.  In an effort to eliminate this "dark spot," construction of the Currituck Beach Lighthouse began in 1873 near the town of Corolla, NC.  Construction took just two years and by December of 1875, the lighthouse was in operation, guiding mariners along one of the most dangerous areas of coastline in the southeastern United States.
It took the builders nearly one million bricks to construct the 162-foot tower.  A first order Fresnel lens was installed in the lantern room, and when combined with a focal plane of 158 feet, the lighthouse casts its beam 18 nautical miles out to sea.  The builders also decided to leave the tower unpainted, to help distinguish the tower from its twin, Bodie Island, located to the south.

The lighthouse was automated in 1939, and the keepers of the light were no longer needed.  Although the lighthouse remained in service under the jurisdiction of the Coast Guard, the lighthouse and the surrounding buildings were left to the elements.  By the 1970's, the keeper's quarters and the stations other buildings were so badly neglected, that they were basically in ruins.  Then in 1980, the Outer Banks Conservations, Inc. leased the site from the state of North Carolina.  The OBC began the process of raising funds and began the restoration process.  The lighthouse was then opened for the public to enjoy.

All photos contained in this site, © 2001-2007 Wilmoth Photography.  Images and text may not be used from this website without written permission.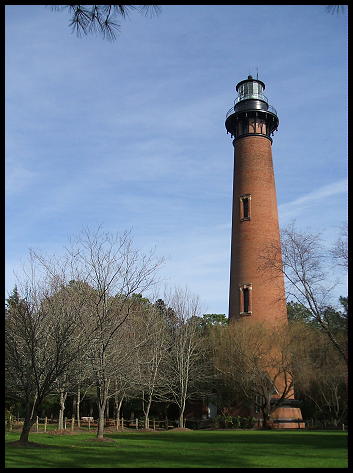 Currituck Beach Lighthouse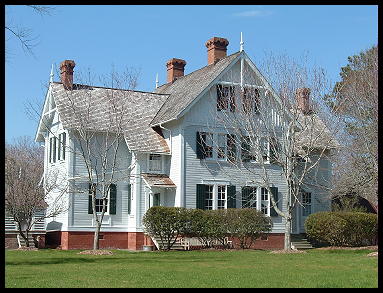 In 2001, the United States government declared the lighthouse surplus property.  Under the National Historic Lighthouse Preservation Act of 2000, the OBC and the County of Currituck submitted applications to be awarded ownership of the lighthouse.   After review of the applications, the OBC was deemed to be the best suited to care for the lighthouse.  However, local politicians became involved in the process and made numerous attempts to interfere in the process in an attempt to help the county gain ownership of the lighthouse.  All of these attempts failed, and in 2003, ownership was transferred to the OBC.