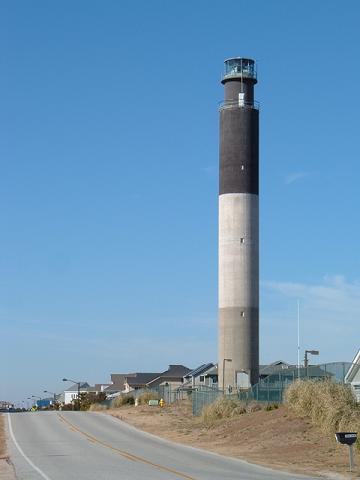 To visit the Oak Island lighthouse, take Hwy 17 to Hwy. 211.  Take Hwy 211 south for 13 miles and make a right turn onto Hwy 133  until you cross the bridge to Oak Island.  After crossing the bridge you will come to a stop light.  Go straight through the light and follow the road until you reach the lighthouse.  It will be visible on the left before you reach it.  Parking space is limited and there are signs posting limits on the length of time you are allowed to park.  The lighthouse is not open to the public to climb, and the Department of Homeland Security restricts access to the grounds.  For more information on the lighthouse, visit its official web site at
www.oakislandlighthouse.org
.  Please note that this is a residential area.  Please be respectful of others property.  While in the area, be sure to visit the
Oak Island Life-Saving Station
.
All photos contained in this site, © 2001-2007 Wilmoth Photography.  Images and text may not be used from this website without written permission.

Photo taken on December 28, 2004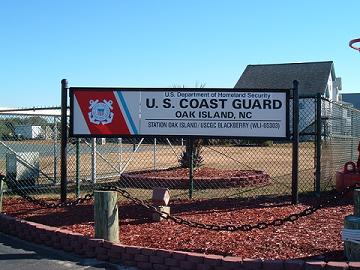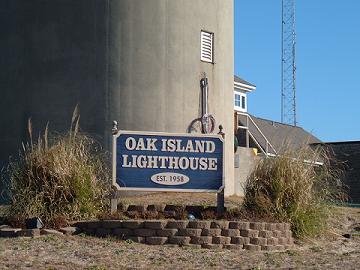 Photo taken on December 28, 2004

The Coast Guard, formally under the supervision of the US Department of Transportation, is now under the direction of Homeland Security.

Photo taken on December 28, 2004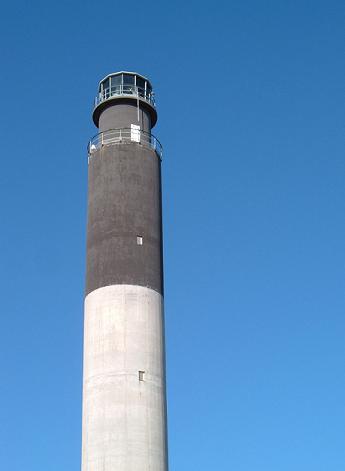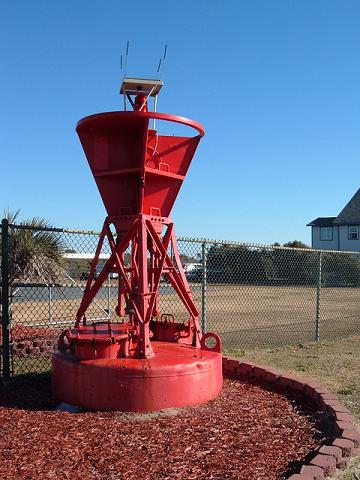 Only Coast Guard personnel enjoy the view from the lofty tower.

Photo taken on December 28, 2004

This large red buoy adorns the entrance to the station.

Photo taken on December 28, 2004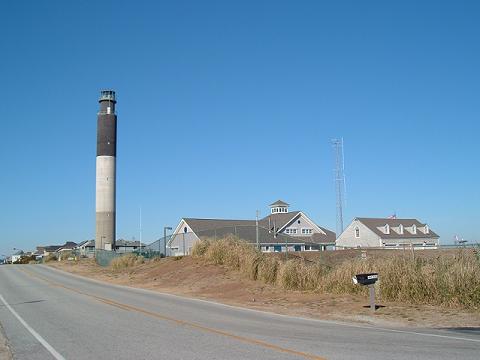 The entire Oak Island Coast Guard Station

Photo taken on December 28, 2004

This sign adorns the front of the lighthouse property.

The Cape Fear River has long been an important shipping avenue to the inland port city of Wilmington.  As the needs of mariners changed, so have the lighthouses that were established to mark the river entrance.  The very first lighthouse used to mark the river was constructed in 1796 and was later destroyed by the weather.  The tower was replace in 1818 by a new concrete structure known as the Bald Head Island light, which still remains today.  This light was discontinued in 1935 when the Cape Fear Lighthouse was constructed and put into operation.  The light was later discontinued when the Oak Island lighthouse replaced it.

The Coast Guard constructed the Oak Island lighthouse in 1958.  Constructed of concrete and standing 155 feet in height, this "modern" tower was the next to last official lighthouse built by the Coast Guard.  This high-tech tower was constructed with a slip form design in where the concrete was poured and as it dried, the mold would be raised allowing the next section to be poured until the tower was completed.  The tower also will never need to be painted because its color was added to the concrete before being poured into place.  The foundation of the lighthouse was built in such a way that the lighthouse is designed to sway up to three feet in gale-force winds.

The lantern room is made of aluminum and the intensity of the lights can be increased during storms to produce up to fourteen million candlepower, improving the lighthouses ability to be seen in the worst of weather.  The heat from the lights can be so intense, that special clothing must be worn during maintenance of the lantern room. During normal operation, it produces four white flashes that can be seen nineteen miles out to sea.

On October 18, 2004, ownership was transferred to the town of Caswell Beach while the opitics are still maintained by the Coast Guard.