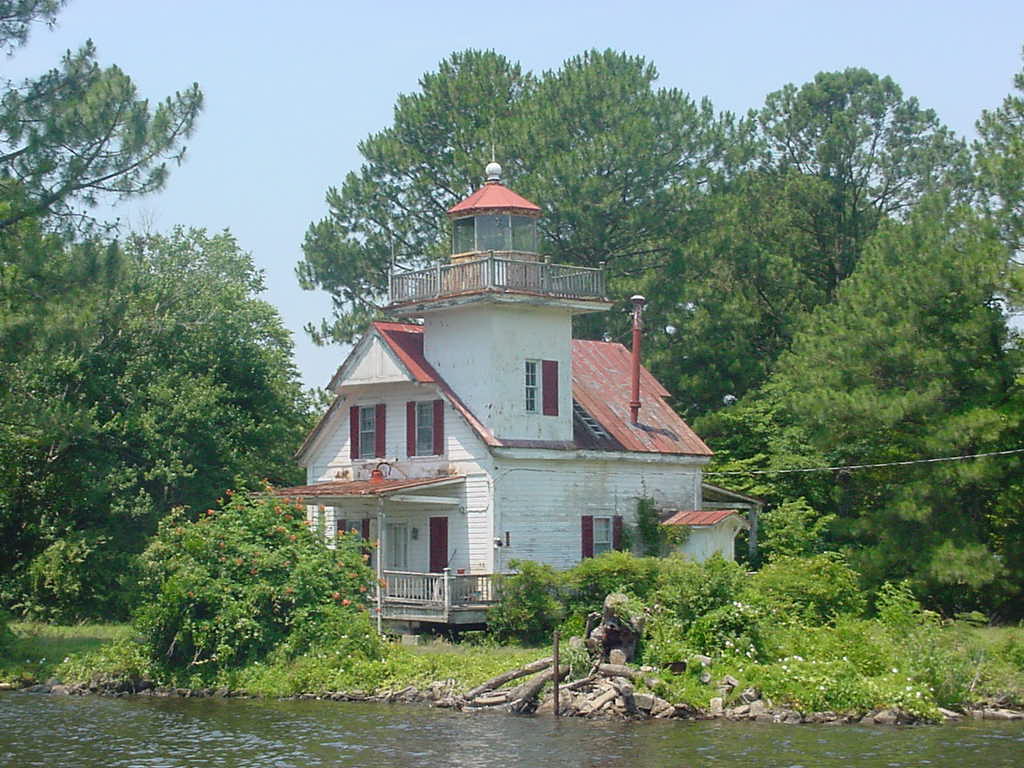 Photo taken June 13, 2002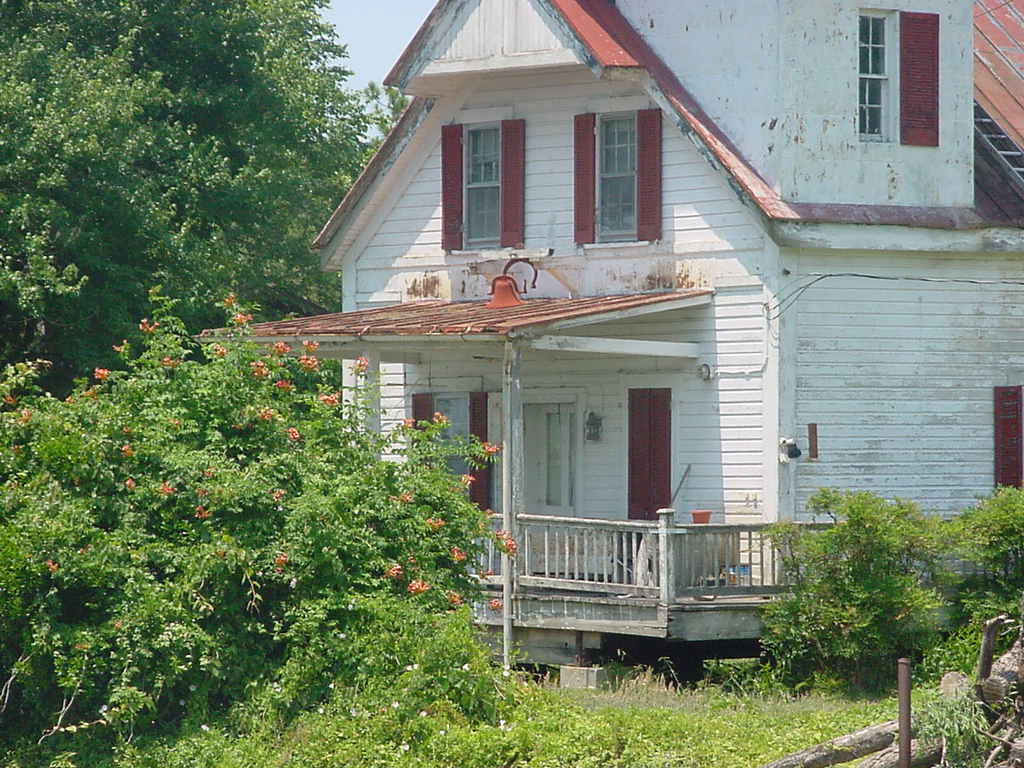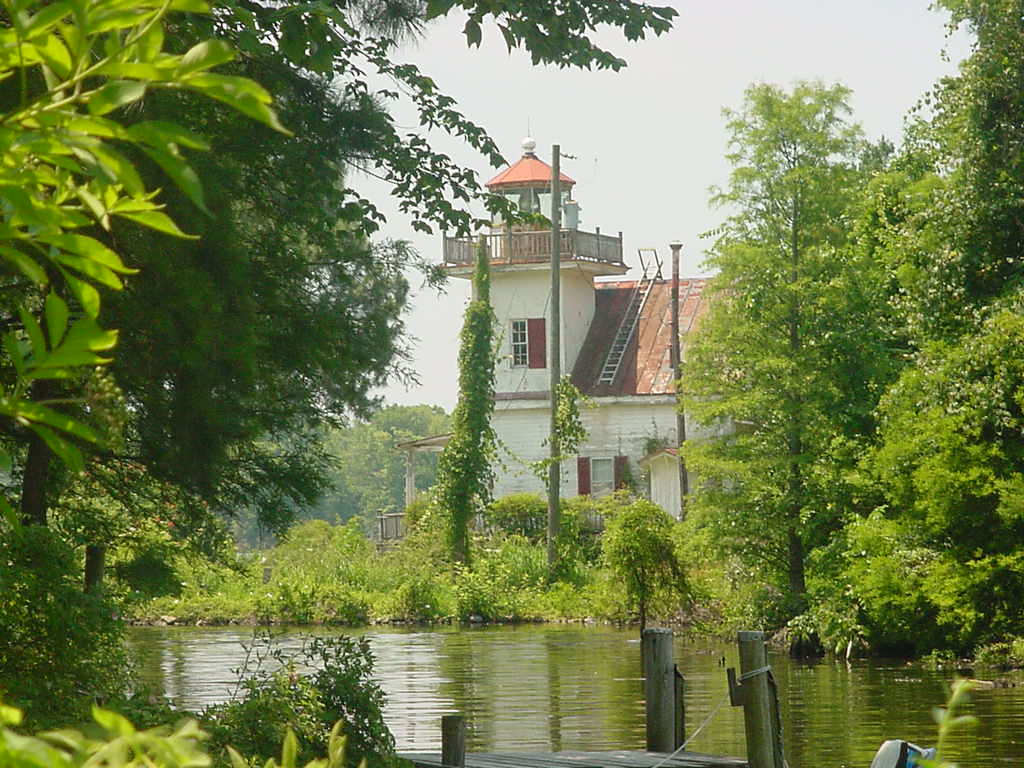 The calm coastal sounds and rivers of North Carolina were once home to about a dozen lighthouses.  These lighthouses were crucial to the growth of the coastal communities of the state and marked dangerous and remote shoals and sandbars.  These lighthouses were constructed on top of metal pilings that had large screws, which would be placed deep into the sandy bottoms of the waterways.  On top of these piles, a small house would be constructed with a tower and lantern room placed on top of the structure.  There, the Keeper and family would live in the small confines, and spend their days tending to the lighthouse.

Built in 1866, this is the second Roanoke River Lighthouse and is the last screw-pile lighthouse remaining in North Carolina.  No longer an active aid to navigation, its current home is in the small town of Edenton, North Carolina.  It rests on private property and is not open to the public.  Please be respectfull of others property.  The lighthouse is in need of some repairs, which can be seen in the photos.

Traveling along Hwy 17, take Hwy 32 towards Edenton.  This road should either become Queen Street or you have to turn onto Queen Street.  Once on Queen Street, look for the Tastee Freeze, which is located on the left side of the road.  When you get there, park in their parking lot and walk across the road to Hollowell Park.  Walk to the end of the park and look out across the small canal and the lighthouse sits in plain view.

This is the best possible view of the lighthouse aside from being on the lighthouse grounds.

Photo taken June 13, 2002

Photo taken June 13, 2002

This is the view from Hollowell Park.

Close up view of the lantern room and gallery.

Photo taken June 13, 2002

All photos contained in this site, © 2001-2007 Wilmoth Photography.  Images and text may not be used from this website without written permission.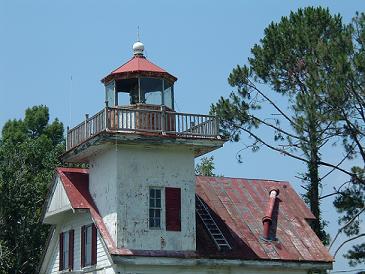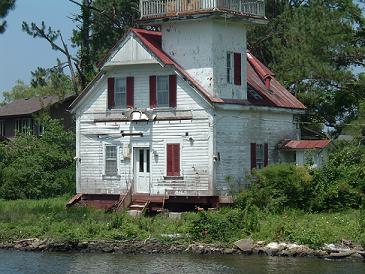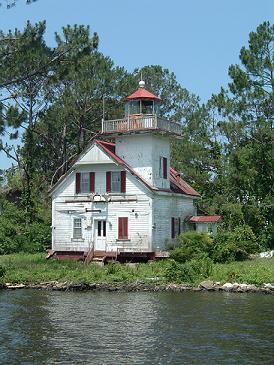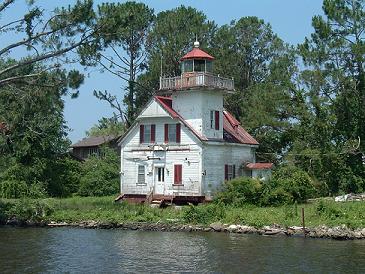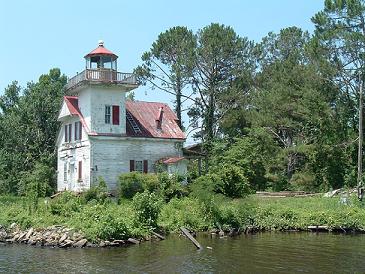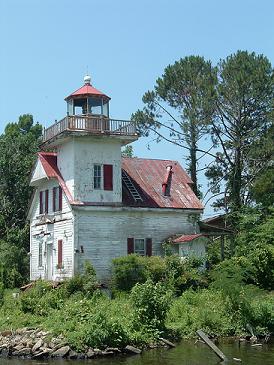 Photo taken June 18, 2004

Photo taken June 18, 2004

Photo taken June 18, 2004

Photo taken June 18, 2004

Photo taken June 18, 2004

Photo taken June 18, 2004

The porch is now completely gone after suffering damage from hurricane Isabel in 2003.

The extremly rare Fresnel lens still remains in the lantern room

In this side view you can see that a good bit of the paint is missing.

Some of the shutters are also missing from the structure and the bell is no longer visable.

Another view of the lighthouse.

Notice the smoke stack laying down on the roof.