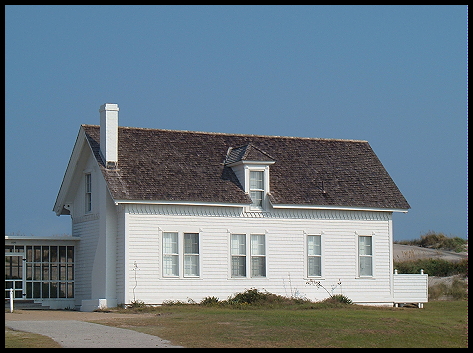 To visit the Bodie Island Life-Saving Station, take Hwy 12 south from Nags Head.  Once your enter the Cape Hatteras National Seashore, travel about 8 miles and the life-saving station will be on the left across from the entrance road to the
Bodie Island lighthouse
. 
All photos contained in this site, © 2001-2007 Wilmoth Photography.  Images and text may not be used from this website without written permission.

The coastline along the Outer Banks of North Carolina has long been a notoriously dangerous region for mariners to navigate.  While a number of light stations were being built to help mariners safely navigate the waters, the United States Life-Saving Service was busy establishing Life-Saving Stations as well, to assist mariners in distress.

In 1878, the "Tommy's Hummock" life-saving station was constructed on what is known today as Bodie Island.  The station, located just north of the Bodie Island Lighthouse, later took on the name "Bodie Island."  The 1876-Type station served until 1925 when a new Chatham-Type building was erected just to the south.

Today, the both buildings still remain and are owned by the National Park Service.  The 1876-Type station has undergone some modifications.  The lookout platform has been removed and windows have replaced the double doors which enabled the surfmen to roll the surfboat inside

The 1876-Type Bodie Island Life-Saving Station

Bodie Island Life Boat Station

                                                                        the station.  The building is being used as a private residence and is listed on the National Register of Historic Places.

Just a few yards away, the Chatham-Type building has been abandoned.  The building appears to be structurally sound, although the exterior of the building needs some attention.