To visit the St. John's Lighthouse, take Hwy. 105 from Jacksonville to the entrance to the naval base.  At the stop light just before the base entrance, make a right turn and follow the signs to Hannah Park.  Enter the park ($1 per person fee) and travel to the first beach access that you come to.  Park your vehicle, and walk out on the cross-over to the beach, look to the north and the lighthouse will be visible a few hundred yards up the beach.  At this point, the public beach ends and naval base property begins.  Armed guards are usually stationed at this point to ensure that no unauthorised personnel enter the base.

All photos contained in this site, © 2001-2007 Wilmoth Photography.  Images and text may not be used from this website without written permission.

The St. John's Lighthouse was completed in 1954 and stands as one of the last lighthouses built for the purpose of being an active aid to navigation.  This lighthouse does not fit the customary image most people have of a lighthouse.  Constructed of concrete block, the tower stands sixty-four feet in height.  Built without a lantern room, a rotating 200,000 candlepower aero marine optic was placed on top of the structure and emits a light that can be seen up to twenty-two miles.  Its angular design enables it to withstand high winds that are commonplace on the Florida coast.

The lighthouse is located on the Mayport Naval Base and is closed to the public.  Visiting the lighthouse is very difficult unless you have military identification or are sponsored by a member of the military.  While in the area, visit the
St. John's River River Lighthouse
.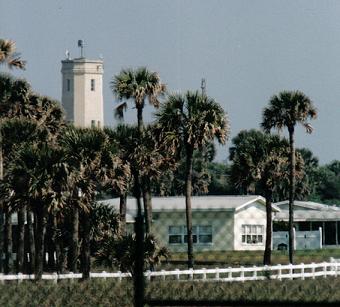 Photo taken April 10, 2004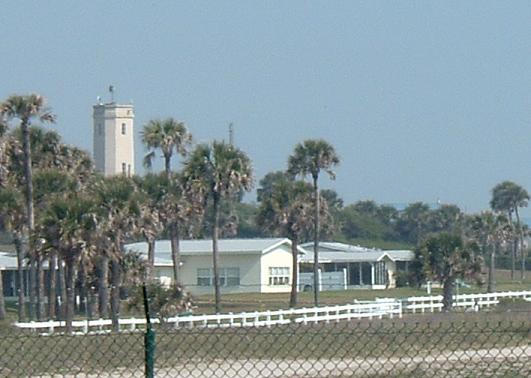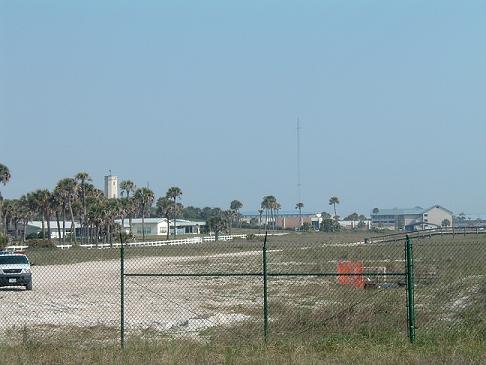 Photo taken April 10, 2004

Photo taken April 10, 2004

This is the actual view of the lighthouse from the cross-over to the beach.

Another view of the light.